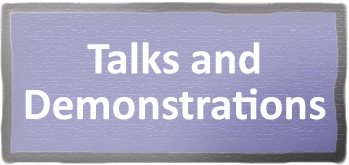 Want to find out more about what makes our artists tick and how they go about their work? Some of our talented members created short talk or demonstration videos for the Great Online Art Fair 2020. These give an insight into some of the techniques used to produce the final work, or perhaps enable you to find out that little bit more about them. Simply click on any of the video or demo links next to the artist's name. You can also find short introduction videos from other members who took part in the GOAF on out YouTube channel here
A painting a day through lockdown - The Isolation Chronicles

 
Sue Prince
Video
In this video Sue Prince shows how she painted a picture everyday during lockdown. She used home made egg tempera paint in little khadi paper sketch books to create 84 daily paintings of her lock down experiences on her Peak District farm.
 
From Capture To Print

Ian Daisley
Video
This short, 2.5 minute video shows some of the stages Ian goes through, from first capturing an image, to making the print and then framing. A little insight into the way he works.
Drawn to Painting

 
Sarah Morley
Video
In the studio with Sarah Morley. Sarah talks about drawing and sketching and how this informs her paintings.
 
Printing Cyanotypes onto Fabric

Natasha Braithwaite
Video
In this concise video Natasha Braithwaite demonstrates the basics of one of the oldest forms of analogue photography, showing you how to produce these distinctive blue and white prints which can be created easily at home without the use of a camera. The video demonstrates how to do this on fabric the principles remain the same for producing cyanotype prints on paper.
En Plein Air Artist

 
Craig Longmuir
Video
Craig paints the Peak District landscape from direct observation using oil paint on canvas. His intention is to describe the unique experience of being in the environment by using thin washes of paint, impasto brush marks, skeins of dripped, spattered paint and drawing sgraffito with the end of the brush into the surface.
 
Smoke Fired Ceramics

Viv Sillar
Video
Vivienne Sillar talks through the processes involved in creating of her hand built ceramic forms which are inspired by birds and aquatic life. Burnished and smoke fired, each piece is unique.
Creating Digital Fine Art

 
Jill Ray
Video
With reference to a recent work, Jill Ray talks about how she draws digitally to create her prints. She explains how she plans and executes her work, her influences and themes.
 
Painting with Yarn

Alison Wake
Video
Textile artist Alison Wake talks through her inspiration and the techniques she uses to create her unique hand stitche artworks. Fine art in stitch.
Where, How, What

 
Sandra Orme
Video
Award winning pastel artist Sandra Orme talks about her techniques from her studio in Buxton.
Painting Demonstration

 
Sue Nicol
Video
Here Sue Nichol demonstrates how to paint a simple Staithes scene in five minutes, thanks to the magic of time lapse.